Do you have the urge to create a unique piece of furniture that's all your own? Whether you have no experience in building furniture, or very little experience, it's never too late to learn how to make furniture, or build on your skills.  Creating a finished piece of furniture from rough lumber fills a person with an uncontrollable sense of achievement. It's a great way to showcase your skills and creativity, and it's a handy ability to have as a hobby or for day to day needs around the house!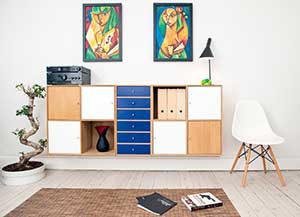 No matter what level of involvement you want to participate in woodworking – from hobbyist to full time career – it's important to have the proper training. When you have the right safety training and knowledge of equipment, your experience in making furniture will be exponentially better. Many colleges offer courses on building furniture, and offer a comprehensive curriculum that covers everything from safety, to project planning and budgeting.
Choosing your first piece of furniture that you will make is an important decision. It's key that you choose a project that is in line with you level of experience. Don't choose a project that's far above your ability level, or you may get frustrated and feel as though you want to quit. It's great to have aspirations to build difficult and complex pieces of furniture, but you will need to build your skills up to that level.
An important skill that you will need to develop when you are learning to make furniture is the ability to plan out a project step by step. Some projects require you to complete each step in a specific order, so it's essential that you understand the importance of this process and how to properly create the action steps to complete your project.
When you start to gain more experience and become more comfortable using the machinery, you may want to start challenging yourself with increasingly difficult projects. Perhaps you spotted a piece of furniture in a store that you would like to try to replicate? Or maybe you have ideas for how you could improve or add to it? It's great to give yourself a challenge! Draw out your plans for how you will make your furniture, and create your step by step process, then put your skills to the test.
Learning to make furniture is a fun and enlightening experience. It can be challenging at times, but it is also quite fulfilling, especially when you are able to overcome those challenges that you face. Find the proper training before you get started, and learn as much as you can in order to make this a great experience.
In the end, it's up to you how much you want to learn about making your own furniture. You can learn just enough to make a few simple pieces on the weekend, or you can continue to develop your skills to make more challenging and intricate projects. But, overall, you will have learned a great skill, and you'll have a collection of beautiful pieces of furniture to show off – all handmade by yourself, of course!