When you come after a long day of work, you want to make yourself comfortable. To this effect, you choose furniture that is functional and easy on the back, though you may be concerned that some pieces cause your rooms to appear cluttered or smaller. It's nice to have space in which to move around, but if you also need tables and shelving for storage you will need to consider how to place everything so you can walk freely through your home. There are ways to get the items you want without sacrificing space.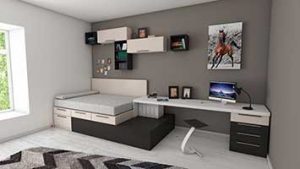 If you value having plenty of room to move, whether in your bedroom or living room, here are a few ideas to keep your home clutter-free.
1) Storage Beds. If your current bed is raised from the floor, no doubt you have stored unused boxes underneath it. This is a good idea, but when left unchecked those boxes will end up coated in dust bunnies! You want to consider buying a bed with a storage base – drawers to hold seasonal clothing and other objects.
For your child's bedroom, the storage bed is very useful for stowing away extra clothes and toys. You can also look for models that have a trundle bed underneath, which is good for sleepovers and visiting relatives.
2) Sofa Tables. If you find you're the type who is always stacking something on a table, you may frown on the cluttered look of your home. Sofa tables, those long, narrow tables that are positioned behind couches, give you some space to set keys and phones for easy access. Depending on how you position your furniture, the sofa table can be somewhat concealed, so you don't have items strewn about a room.
3) Drop-Leaf or Butterfly-Leaf Tables. If you have a small family at home, or it's just yourself, there's no need to own a large dining table. In fact, having a smaller, cafe style table is sufficient for eating and it may encourage you to keep it clean and not pile untouched mail and books on the surface.
If you entertain often or work from home, using a drop-leaf or butterfly-leaf table lets you extend the surface for a more practical use. When you are finished, you can store the leaves and increase room space.
You can also visit your local furniture store for more ideas on saving space through furniture positioning and special items. Give yourself some elbow room but don't skimp on furniture pieces you want.