Most people cannot afford to just donate or dump all of their old furnishings and go out and buy all new pieces. That is just not a realistic possibility for most people. Nor would I necessarily recommend that you scrap everything and start from scratch. Most likely, you have acquired certain furniture pieces, whether handed down or through your own purchasing.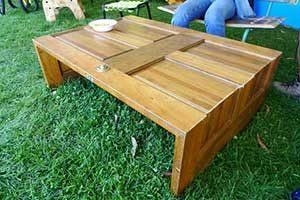 Those pieces may have sentimental value to you, may have really good bones, or may just simple be neutral enough to work into your design easily. Repurposing those oldie but goodies is a great way to conserve your decorating budget and to give older pieces and your home decor a new life.
-Try moving things around – Simply rearranging the room can give your space a whole new look. There is a complete design field that focuses on the "redesign" of a space, using what you already have but rearranging it to maximize flow, and tie pieces together. Take an afternoon and try different floor plans and layouts. You may be surprised that a layout you thought wouldn't work, actually does.
-Give it a new function – Get really creative with great pieces. Wall sconces can be sculptures on a table. A small bookcase can be a great space divider, or accent table. An old dresser could make a great buffet. An old vase might make a great lamp. Get creative with your pieces. Try to see the potential in them and use your creativity to make it happen.
-Give it a makeover – If the piece is sturdy, consider giving it a facelift. New paint or stain could completely change the look and function of the piece. Adding a fabric tablecloth to an old table can liven up a space. A new lampshade of an old lamp can make it look like new.
-Consider reupholstering – If the piece is of quality, sound in its structure and foundation, consider finding a great new fabric. Reupholstering should be saved for pieces that are well made and in good condition. It is not necessarily less expensive than purchasing a new piece so be sure you really love the piece before going down this route.
There are many ways to utilize great old pieces within your interior design. All it takes is a little creativity and thinking outside the box to give that piece a new lease on life and to conserve your decorating budget.