Furniture design is constantly changing to stay ahead of the latest trends that appear at market each year. Designs vary from sleek contemporary to traditional Victorian. But the latest rage with designers is the use of "green" or "sustainable" furniture materials. While many of the pieces we see at market now incorporate recycled materials, an exciting new wave of "repurposed furniture" has begun to make its appearance.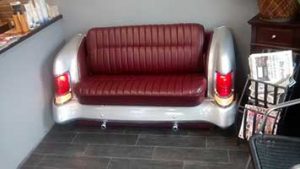 Creative furniture designers are now beginning to incorporate vintage and antique artifacts into their new creations. This usually means one-of-a-kind or a limited quantity, which does not work well with large furniture manufacturers. But for those designers who pursue a more "artistic" approach to their craft, and their clientele, these pieces create a particular warmth not found in mass-produced furniture.
Repurposed furniture designers focus on incorporating antique and vintage artifacts and materials into their unique designs, whereas recycled furniture makers reprocess discarded materials to use in the construction of new items. Both ideas play an important part in conservation, but repurposing brings to the table a new, exciting use for both everyday items and once endangered historical relics.
One of the driving forces behind the repurposed furniture movement has been the popularity of loft-style living. With hundreds of new lofts popping up all over the country, customers are looking for urban-style furniture, but finding this style in short supply in typical, traditional furniture stores. These trends have inspired designers to acquire vintage industrial machinery, common everyday items and historical artifacts to transform them into unique furniture, or "functional art".
Many antique dealers are now beginning to carry these pieces as a supplement to their traditional inventory. Examples include the conversion of old pallet trucks, once used to haul materials through factory warehouses, into cocktail tables; old wooden, stone or terra cotta balusters from stairways or railings adapted as table lamps; steel, zinc or wooden work tables refinished to serve as dining or kitchen tables; and industrial cubby or storage bins used to organize mud rooms or to display towels in a bathroom. Another popular use for these repurposed pieces is as display art. Sometimes something as simple as a custom metal display stand can add new life to a piece and present it in a more distinctive way.
The real beauty and attraction of this type of home furnishings is the feeling of "owning" a piece of history. Even non-museum pieces add nostalgic character and conversation to one's home, and at the same time, saves a priceless piece of history otherwise headed to the landfill.