The Shabby Chic décor style popularized by Rachel Ashwell and Arhaus seeks to have an opulent vintage look. Colors prevalent are white, pastel and ecru. Fabrics are generously hemmed giving a soft and deep feeling. Shabby Chic furniture is given a distressed look by covered in sanded milk paint. The whole décor style has an intriguing flea market look.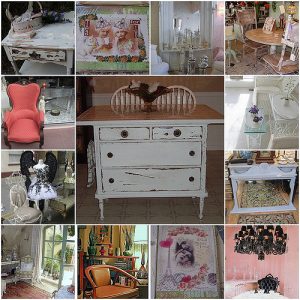 Pink peonies collaboration
Items in this range have soft pink fabric covers and include beddings, bed skirts, settee upholstery, and pillows. Styles in this range are charlotte, petticoat, tufted and Lilliput.
Rugs
The Shabby Chic rugs are in sheepskin and vintage designs. The sheepskin rug is made from natural sheepskin and is milk white. The vintage rugs are in soft pinks and browns on white backgrounds depicting natural plant art.
Accents
These are different accessories that show spontaneity in art and craft. Items in this collection include poufs, metal trays, globes, matchboxes and vases. Colors are more divergent with indigo, poufs, blue vases and brown wood decorations.
Mirrors
An opulent décor style is bound to have mirrors in various designs. The Shabby Chic mirrors styles are long, liberty, renaissance, estate and grand. Frame colors come in silver and tan colors.
Pillows
The Shabby Chic pillow designs are damask, Bella, lace and Venetian. The emphasis is on a deep fluffy look with covers being dominantly pastel and ecra in color.
Window covering
Curtains are for privacy as well as decorative functions. The range of curtains come in petticoat white, silk dupioni, embroidered voile and cottage linen styles. The colors are white and pink.
Throws
The throws have a hand knit look and go very well with soft pink and white couch and settee covers.
Art
No décor style is complete without art. The works of art in the collection are by Jorunn mulen. The pencil and charcoal etched drawings are done on soft pink and pastel colors to stay with the theme.
Furniture
This decor has furniture items for dining, living and bedrooms. The Shabby Chic furniture is covered in white, pink and pastel colors. Dining sets, settees and reading bureaus are also in the furniture collection.
This décor style also includes lighting, bath and gift items. Baby items are also available in this refreshingly feminine collection. The shabby chic collection is able to give a complete look for the whole house with tasteful items for everyday use.
You can learn more on applying the shabby chic home décor style by reading books by Rachel Ashwell.