Have you finally graduated from building birdhouses and decided you want to learn how to make furniture? "What should I build" and "Where do I start" are usually two of the first questions that come to mind. DIY (Do it yourself) furniture can be about as simple or complex a woodworking job as you want it to be, so here are a few planning suggestions to point you in the right direction.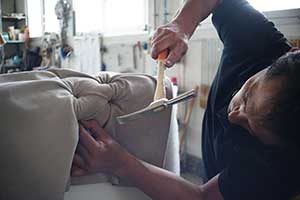 Decide what you want to build first.
If you're just beginning to learn how to make furniture, you should choose a project that is easy and practical. Building a picnic bench is a great first project as most people can use one, they get you accustomed to working with larger pieces, and are much more forgiving if you should make a mistake or three.
Bunk Beds are another excellent first project. So are platform beds.
Take time to choose your plans wisely.
Make sure the plans you choose offer enough detail to get you through the project. There is enough to deal with when learning how to make furniture than to suffer through trying to use inadequate plans. Take a look at another article of mine, Great Woodworking Projects Require Great Plans, to see what you should look for in a set of woodworking plans. If you want to get a LOT of plans at once, there are some good all-in-one packages of woodworking plans on the market that will surely provide as many plans as you can use in many years.
Make sure you have, or can borrow, the tools you need.
This goes hand in hand with choosing your woodworking plans. Many plans will give you an idea of the tools you need. Don't bother trying to build a table if it requires twenty-four bar clamps for glue up and you don't have access to them. Using the right tools for the job is how to make furniture the right way.
Make sure your tools are properly adjusted and blades are sharp.
If your table saw blade is out of adjustment by a degree or two, you'll learn how to make furniture the hard way! Bad adjustments will mean pieces don't line up. Dull blades will make rough cuts, cause splinters and increase blade tear out.
Measure carefully, cut even more carefully.
Assuming you have a good set of plans and the right tools, the rest falls under your individual skill level. Follow your plans step by step. Measure twice and cut once as the saying goes. Hey, I often measure three times, good wood isn't cheap!
Cutting carefully should go without saying. The results of carelessness can range from misfit pieces to missing fingers. Neither is good!
When in doubt, ask.
If you aren't a member of a woodworking forum or two, sign up now. Start reading, ask questions. If you get stuck in the middle of a project, get online and ask around. There are a ton of friendly people in the woodworking community that are eager to help and share their knowledge.