Log furniture creates an inviting look that easily fits in with any interior design, all while perfectly complementing the rest of the log furniture already in the cabin or house. Log beds can often be found in many styles, ranging from the economical to the bold. With many wood options to choose from, including aspen, cedar, red cedar, hickory, pine, wood and iron, and barn wood, choosing furniture for the bedroom is a breeze.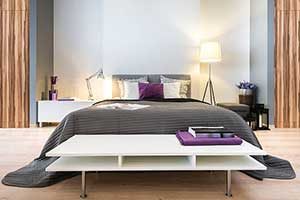 This type of furniture blends well in any setting. This style does not have to match with all existing furniture or be used solely in cabins set in the woods. Log furniture now brings interest and personality to any style of home. Whether it is used as just an accent piece to contrast and highlight the existing furniture styles in the house, or to decorate the entire house with a piece of nature in a charming yet simplistic way, log furniture can satisfy many interior design needs.
Log Beds Make A Statement
Log beds are an integral part of creating a bedroom with a rustic, warm feel. A wide variety of statement-making pieces are available to accommodate every person's unique needs. For homes with limited space, choose from the versatile day, futon, and bunk beds, while larger homes tend to benefit from the stately canopy bed, adding a touch of charming decadence to a room.
Day, futon, and bunk beds are great for making use of a small space while also giving the bedroom a unique look and feel. This design is not only economical, but it also provides a sturdy construction for many years of use. A ladder is usually attached for easy access to the top bunk. Bunk beds are timeless, providing endless fun for kids and grandchildren.
Futons and log day beds present solutions for rooms where floor space is limited. These styles provide the flexibility of having an extra place for guests to stay when needed, while also functioning as a comfortable couch when not in use. Day beds can also be used to furnish an enclosed patio or porch for an unexpected yet inviting touch.
While daybeds, futons, and bunk beds are extremely economical and charming, there are also log beds available that make a statement. Used as the center point of a rustic-style bedroom, nothing matches the look and feel of a four-poster canopy bed, complete with solid wood construction. This design achieves a classic status that also blends perfectly with the rest of the bedroom's decor, whether it is a rustic feel or a more contemporary look one is seeking to create. With a wide selection and many styles to choose from, these log beds will last a lifetime.
Modernize With A Platform Bed
On the other spectrum from the rustic log beds mentioned above, wooden platform beds create a modern and functional appeal to the bedroom. Designed to accommodate just a mattress, this design consists of wooden slats that make up its foundation. With many various wooden platform bed frames to choose from, including oak, cherry, maple, and ash to name a few, there is a specific style and finish for everyone. The platform style is very versatile and easy to maintain, and it manages to tie into any bedroom's theme.
Just as platform beds achieve a modern look, the accessories should be kept to a minimum as well. Stick with unadorned solid sheets and comforters in either natural or bold hues for a simple and sophisticated look. Decorate with a few pillows to convey elegance, instantly complementing the platform style. Extra accessories such as candles and flowers continue to add to the clean theme of a modern bedroom.
Finish Off The Look With Additional Furniture
In addition, choose from unique bedroom log furniture to complete the theme. With log furniture ranging from mirrors, dressers, wardrobes and armoires, chairs, chests, night stands, benches, quilt racks, bookcases, and others, there is a piece of furniture to add appeal to any room. The furniture is crafted from materials of superior quality like white cedar, great Norway pine, seasoned red oak, juniper, hickory, reclaimed barn wood, and many other fine woods. This log furniture helps to create a rustic and inviting look while offering durability and strength.