In today's tough economy, buying antique furniture can be an attractive, economical and stylish option. In antique furniture pieces were made with an attention to detail and workmanship not found in contemporary furniture. The wood used was selected specifically for its warmth and grain, adding to the piece's inherent beauty. During certain periods, it was hand made, hand carved, and painstakingly joined with dovetail joints. Any furniture made with as much care these days could be prohibitively expensive.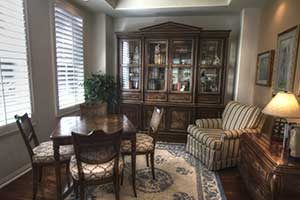 Antique furniture offers a buyer quality and value. More and more people are shopping for antique furniture at antique stores, shows, auctions and estate sales because they know they're getting value, along with the charm and ambiance that an antique piece can add to their home.
Besides actively looking for antique furniture to buy, what should you do if you've inherited or been given a long treasured family antique heirloom piece and your home is furnished in a contemporary style? Think about how you can keep it before you give it away or sell it. Look around your home and find a place where it can stand out. Even better, when you're shopping for something special to fill an empty space, consider buying antique furniture first before buying something new.
If you change your thinking about buying antique furniture and look around at the many styles, you'll see they're not all stiff, straight-backed, stuffy or delicate pieces overdone with ornate carvings. But, instead take note of some of them; Edwardian seating pieces, for example…although they may retain some of the same characteristics of their Victorian predecessors, like being overstuffed and oversized, they are certainly as comfortable as any contemporary easy chair. Many antique furniture pieces are surprisingly comfortable and also remarkably sturdy.
If you use a little bit of creativity, you can easily integrate antique furniture into a contemporary home. Actually, all of the major furniture manufacturers are creating more traditional furniture that will blend well in just about every setting. They modernize a piece with some hardware, for instance, but the shape and size of it still has a formal feel. If you buy a modern dining room set, you can then find an occasional antique piece like a sideboard or buffet to incorporate into your décor.
Many interior designers contact me for something unique to use in their designs. Many of them believe in blending old with new by using a lot of neutral-colored fabric, which looks great with the dark wood of antique furniture and it provides great contrast and a more contemporary feel. They use neutral colors on walls and floors and love to mix high quality wood furniture with flea market finds, but always keep the importance of balance foremost in their minds.
Although many people shy away from the everyday use of antiques, a great many interior designers prefer to use furniture with "good old bones" because it was made to last. Take old cupboards or cabinets, having the original wavy glass, which gives it more character. They are great to use for storing towels and soaps and toiletries in a bathroom or dressing room. You can also find a great antique picture frame and put a mirror in it to add interest to a wall. Re-inventing an antique can give it, or your room, a new life and can turn it into a one-of-a-kind show-stopper.
The possibilities are endless…an old harvest table used as a computer desk…it would look great with a laptop and retro desk lamp; several old wonderful leather suitcases as storage…they don't have to be hidden away…they're great for display on their own under an end table in the bedroom or living room; a Chippendale breakfront with modern dining room furniture…the room can take on a whole new look.
Create your own collection, one that represents your personality. It's important to keep it interesting…just don't overdo it…remember to always keep a balance.
Antique, vintage or retro furniture pieces do not have to be expensive…take a look around. You may find a great retro end table in a relative's basement or a great chair that once belonged to your parents, Get it reupholstered in a neutral fabric with a bit of color in it and it's very "60s."!
Also, by browsing through antique malls and flea markets you can find many great old frames and put some contemporary art in them…it's a great way to mix art with several different frames. Put black and white photography in simple, old frames or collect some old lithography and put them in contemporary frames…they look great! There is virtually something for everyone, awaiting them in attics, basements, flea markets and antique shops.
"We all like different stuff…there's a huge group of collectors for vintage (1960s and '70s), retro ('30s, '40s and '50s) and Victorian and Edwardian antique furniture.
A great many people still aspire to own and buy antique furniture…it represents simpler times…it's nostalgic and soothing, it creates a place where you can go and relax in your refuge from a cold, harsh world.